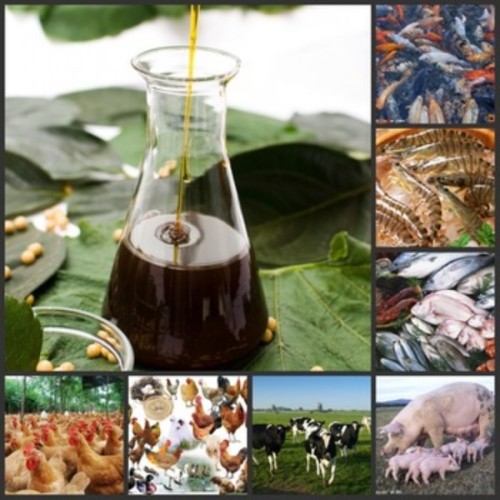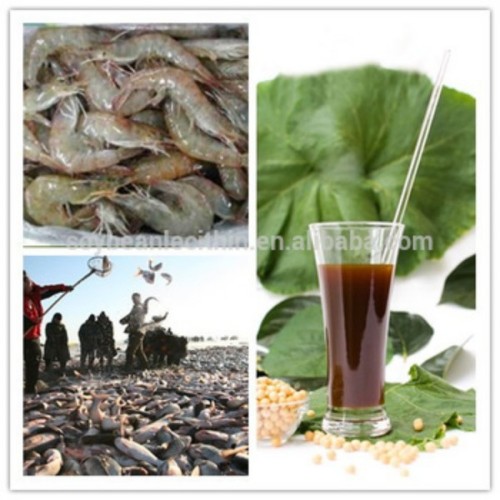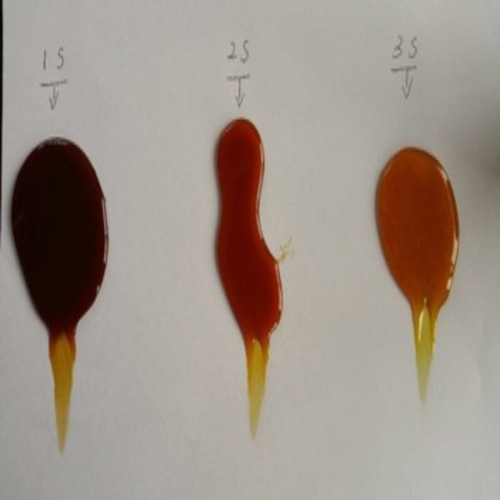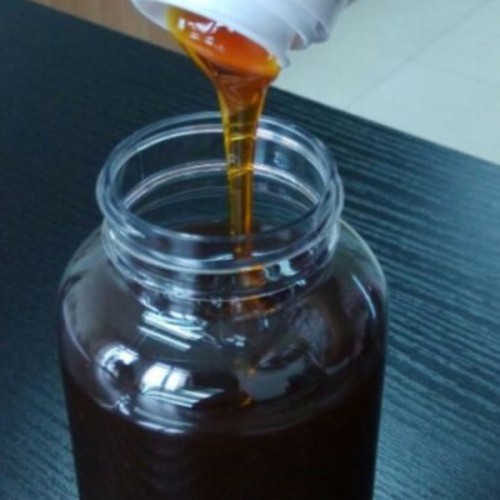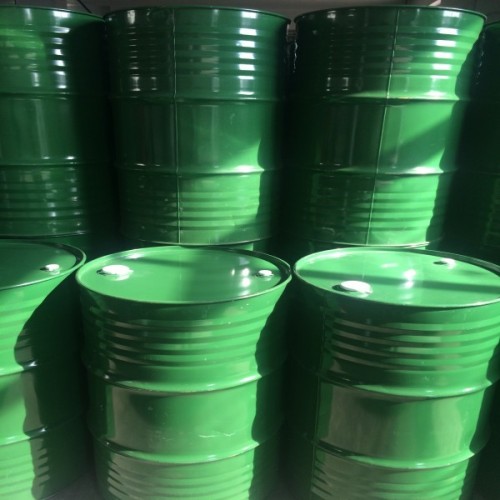 fish and shrimp feed grade emulsifier liquid soya lecithin
Model

HXY-1S
Min. Order

1 metric ton
Item specifics
CAS No.

8002-43-5
Other Names

soybean lecithin
MF

C12H24NO7P
EINECS No.

232-307-2
FEMA No.

FEMA
Type

Antioxidants, Emulsifiers
Acetone insoluble %

≥60%
Ether insoluble %

≤0.5
Acid value mgKOH/g

≤30
Moisture, %

≤1.0
Description
Soya lecithin special for feed (oil-soluble)
Item No: HXY-1S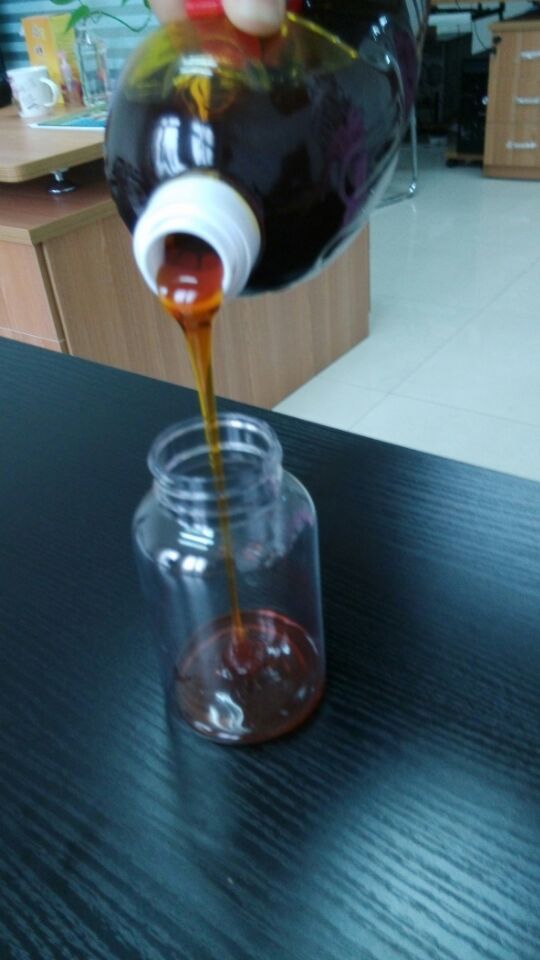 Specification
Item

Model

Acetone insoluble, %

Ether insolubel,%

Acid value, mg KOH /g

Moisture and volatile, %

Color, Gardner 5%

Status

HXY-1S

≥60

≤0.5

≤30

≤1.0

≤12

liquid
Description:
Feed grade oil-soluble soya lecithin thoroughly solve the problems such as the uneven texture, the poor liquidity and the unstable quality, etc. By using such lecithin, the physical and chemical index of product quality will be more stable, and the emulsification will be more better. The packing is iron drums. such packing avoids the product beaning contacted with air too much to keep the its acid value.Our factory can achieve mass production, one of the production line can produce 100 tons lecithin by one time.Every production line is enough stable for exporting.
Product Application:
Soya lecithin is a natural-sourced, consistent, superior feed ingredient that is an excellent source of dietary phospholipids.
Soya lecithin liquid feed grade is good feed additive with following advantages in animals:
Digestion & Absorption Enhancer:
When health & feed of bird is good then its absorption of nutrients is very important. Also intestine of poultry birds has small length & less transmit time, so it is important to absorb maximum nutrients in less time.
Soya lecithin liquid feed grade increases absorption of nutrients after digestion by improving the membrane permeability of lipid Bilayer membrane of small intestine
Soya lecithin liquid feed gradecontains 8 to 10 percent Lysophosphatidycholine(LPC)
LPL produced by hydrolysis of phospholipids It includes...
Lysophosphotityl Choline (LPC),

Lysophosphotityl Ethanolomine (LPE),

Lysophosphotityl Inositol (LPI),

Lysophosphatidic Acid. &
Other lysophosolipids.
The problem of fat digestion is that process takes place in an aqueous environment as in GI tract. Although fat is not soluble in water. Lysol has more HLB value (9-11) so it has superior emulsification action in O/W emulsion (GI) than PLs due to formation of smaller micelles. Fine emulsification of fat in GI gives more digestion & absorption of fat in body of poultry bird.
Growth & weight Enhancer:
Absorption enhancer & fat emulsifier properties of Verolec HE increases growth rate & weight of poultry bird. Thus absorption of breakdown products i. e. amino acids, simple sugar, fatty acids, vitamins, minerals & other additive is optimized leading to efficient growth & production performances of Birds.
Uniform distribution in Feed:
In feed manufacturing process DOC, Oil, Vitamins, Minerals are used, which is not uniformly distributed in each and every pellets of feed and may result high FCR rate further adding up cost. Apart from LPC Soya lecithin liquid feed grade also has strong emulsion properties (especially oil in water) and leads to uniform mixing of all necessary nutrients in each and every pallets. Hence resulting to better FCR & body weight
* Soya lecithin liquid feed grade balance the ingredients in poultry feed by giving polyunsaturated fatty acids, choline, inositol, and organic phosphorus.
* It contributes to correct feed homogenization and to help fat catabolism. This leads to optimum energy efficiency and better farm operation.
Ideal for..
Poultry Feed

Fish Feed

Prawn feed

Shrimp feed

Other aquatic animal feed.

Pig & Pet
Application to fish and shrimp feed grade
Add phospholipids 2-5%, increase weight 15%, increase relative growth rate 36%, increase survival rate 8%, save feed 13%.
Liquid ( without pallet )
1. 200kgs net weight steel drums(small mouth & top open)
small mouth :1x20 fcl can load 98 drums( two layer standing and one layer sleep), with 19.6tons total.
top open: 1x20 fcl can load 80 drums ( two layer standing ), with 16 tons total
2. 20 liters Portable plastic drums, with 12 tons total
3.200kgs HDPE drums:1x20 fcl can load 80 drums ( two layer standing ), with 16 tons total
4.1MT IBC drums:1X20fcl can load 20 IBC drums, with 20tons total
5.Flexi bag packing with 22 tons total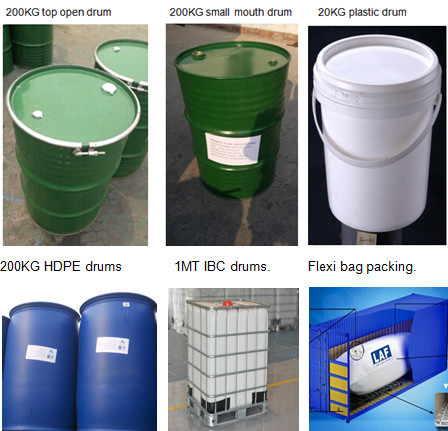 Tianjin Hexiyuan Soya Lecithin Technology Co., Ltd, was founded in 2011 with three factory in china,head factory is located in Duliu Town,Jinghai County,another non gmo produce base located in helongjiang city,we also have one process factory in guangxi ,china
We are pleased to introduce ourself as leading producer of soya lecithin products in china with two factory ,more than eight processing line,
Gmo and non gmo in different pipe and tank ,our factory are approved by SGS,if you are interested in soya lecithin,please contact us for a better price and other.
— Our head factory have three workshops,with eight special heating room,four processing tank,one fitler tank, three film evaporators,two condensers, some raw material storage tank, and more than eight finished products tank etc.
— We have our own testing lab,when the raw material arrived to our factory, we will test it then processing. When the products finished , we will test it again ,when it is ok, we will delivery the goods to our clients.
workshop lab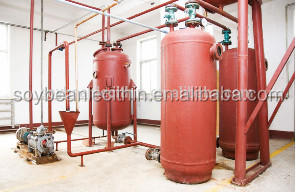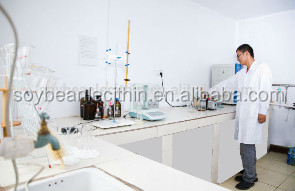 Standard:
Free samples can be sent on request: