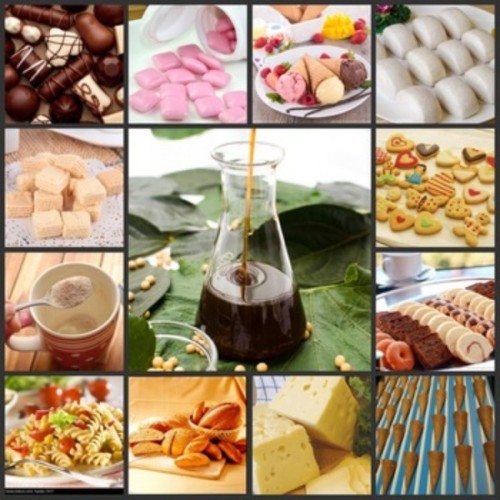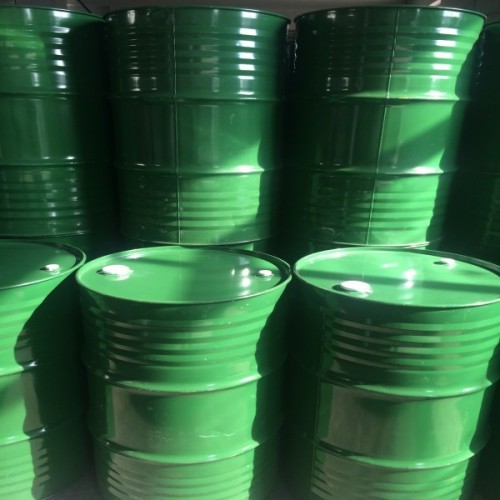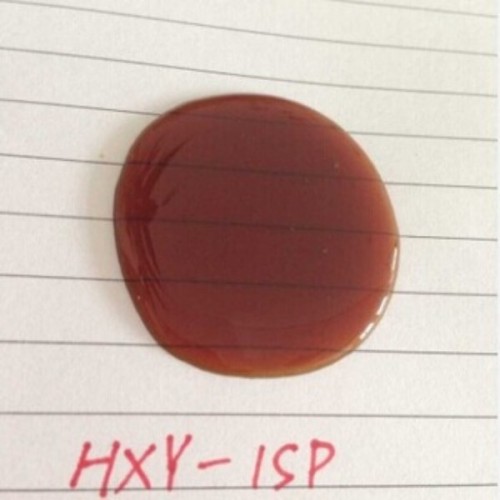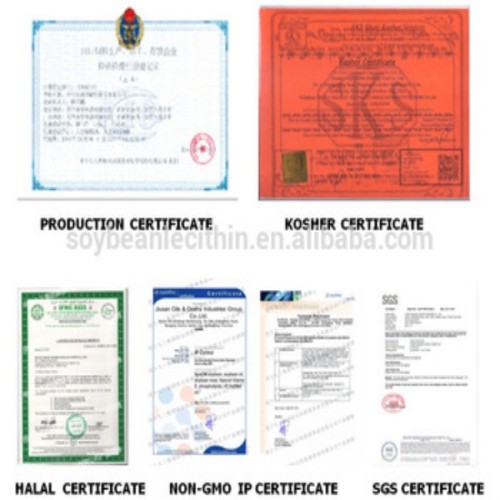 Soya lecithin Cake Emulsifier and Stabilizer
Item specifics
CAS No.

8002-43-5
Other Names

soybean lecithin
MF

C12H24NO7P
EINECS No.

232-307-2
FEMA No.

n/a
Type

Emulsifiers, Nutrition Enhancers
Type:

Emulsifiers,Flavoring Agents,Nutrition
item:

liquid&powder
Purity:

60--65
Certification

Halal Kosher
Description
Enriched/ Concentrated Soya lecithin
Appearance: Yellow or tan Liquid, viscous, symmetrical texture, have the fixed lecithin odor.
Specification:
| | |
| --- | --- |
| Item | HXY-1SP |
| Appearance | Translucent liquid |
| Assay Acetone insoluble | ≥60% |
| Ether insoluble | ≤0.5% |
| Acid value | ≤30mgKOH/g |
| Moisture | ≤1.0% |
| Color,Gardner,5% | ≤14 |
| Peroxide Value | 0 |
Description:
Concentrate soya lecithin can thoroughly solve series of phospholipids problems such as the uneven texture, the poor liquidity and the unstable quality, etc. By using such lecithin, the product quality is more stable as well as physical & chemical index.
Surely the emulsification will be also better. Products are packed by filling sealing to avoid air ,so that makes products acid value more stable. Our factory can achieve mass production, one of the production line can produce 100 tons lecithin by one time. Every production line is enough stable for exporting.
Application:
This product is a natural product extract from the raw soy. It is rich in lecithin (PC) cephalin (PE) inositol phospholipids (PI), which widely used in the medicine/pharmaceutical, food, animal feed and industrial emulsifying dispersant, mold release agent. And this product has the good emulsifying property, the shallow color and luster, the high activity and the good liquidity
(1) Ice Cone / Wafer
The product is very good improving agents for the quality of Ice-Cones/Wafers. It preveent moisturization, minimize crackness of cones/ Wafers.
(2) Bakery
A. Worked as natural emulsifier
B. improve the extensibility and elasticity of doughs, helps improve the volume, crumb structure, and tenderness of bread. benefit yeast-raised baked goods.
C. antioxidant and enhances the stability of vitamins in bakery goods. It supports the effects of oter active baking ingredients, can partially compensate for fats and protein.
D. can improve shelf life and dispersing agent in an aqueous system like doughs and batters.
E. In cookie manufacturing, addition of lecithin helps to obtain a smooth, easily formed dough
F. In flat wafers, twisted ice cream cones, and pressed cones for soft frozen custard, improves release from the irons, supports browning reaction, and makes for more stable wafers that are less likely to break.
G. helps form a fine film around the yeast particles in frozen pizza, thus protecting them from cold damage.
(3) Confectionery
"Our lecithin works as excellent viscosity Modifier" typical usage levels are 0.2%-0.6% of total product weight.
It initially mix batches of confectionery hard-boiled & chocolates, save from dryness to the batches of confectionery color will we improved. greatly reduces the enabling particles of the chocolate.
(4) Biscuit
A. It reduces the need of fats to about 20% to 25% in Biscuits or any product after reducing the fats.
B. Shelf time of Biscuits increases and Flavor, taste of Biscuits improves.
C. remove the rough surface of your biscuit and to increase the shining and decency of Biscuits. It increases the softness of the biscuits
(5) Macaroni and noodles
Add a small amount of lecithin can prevent water noodles of political science and law, to keep the macaroni and softness of the noodles, make its not easy cracking and deformation.In addition, there are anti-oxidation, prolong the shelf life, makes the noodles for resistance to deformation and enhance the nutritional value of noodle.
Status:
Tan or brown transparent liquid
Storage:
1) Be set to cool.dry and ventilated place .away from Fire source.
2) Sealed, avoid light, Prevent from rain and strong acis or alkali.
3) Lightly transport and protect from package damage.
Shelflife:12 months
Liquid ( without pallet )
1. 200kgs net weight steel drums(small mouth & top open)
small mouth :1x20 fcl can load 98 drums( two layer standing and one layer sleep), with 19.6tons total.
top open: 1x20 fcl can load 80 drums ( two layer standing ), with 16 tons total
2. 20 liters Portable plastic drums, with 12 tons total
3.200kgs HDPE drums:1x20 fcl can load 80 drums ( two layer standing ), with 16 tons total
4.1MT IBC drums:1X20fcl can load 20 IBC drums, with 20tons total
5.Flexi bag packing with 22 tons total
Pallet:Wooden fumigation pallets can be added as per request.
Adding pallet: all 200kgs drum,4 drums on one pallet,20 pallets, 80 drums/16mt for 20'fcl max.
Logistics:
Loading:
TIANJIN HEXIYUAN LECITHIN TECHNOLOGY CO., LTD
Our workshop laboratory
1. We can provide mixed containers with different mixed items in one container.
2. We will control the quality, and offer free samples for test before shipment. After shipment, we will keep the samples for 3 years.
3. We can arrange shipment promptly with professional documents.
4. We can make the packages as you request, and send you photos before shipment.
Free samples can be sent on request
Standard:
Contact: