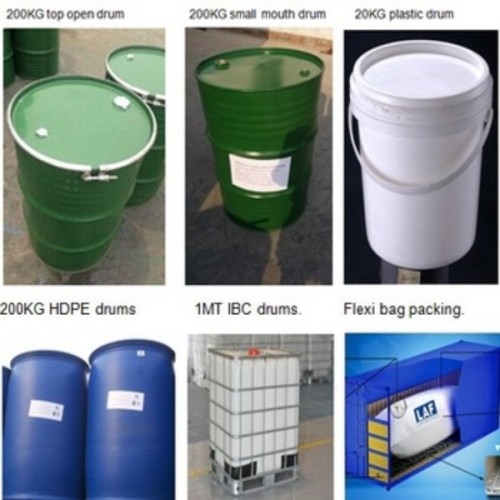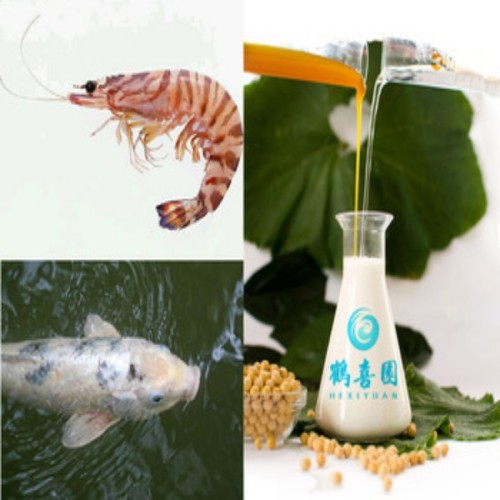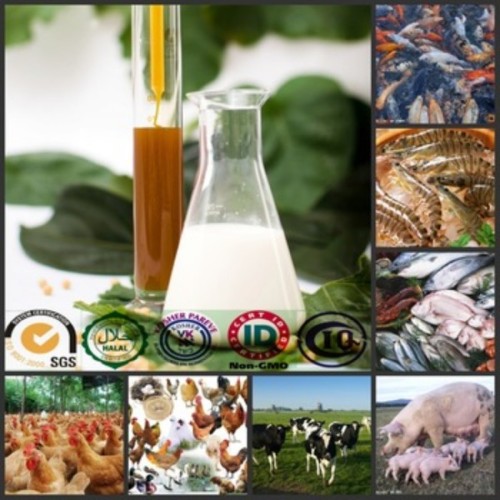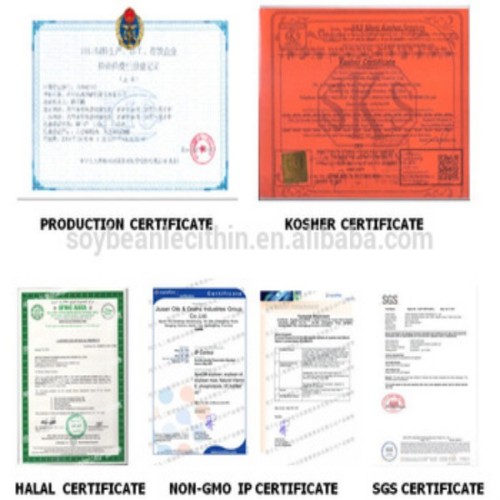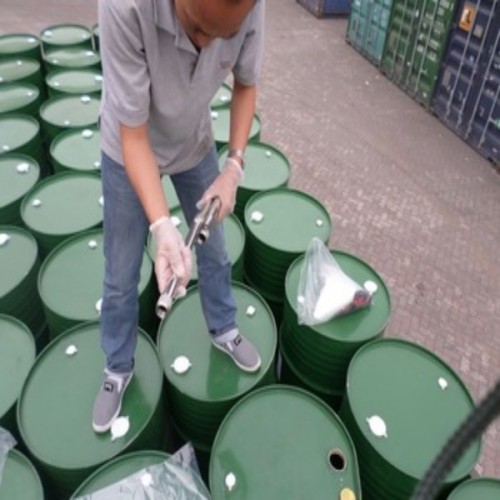 HXY-2S GMO modified water soluble feed grade liquid soya lecithin
Item specifics
CAS No.

80562-43-5
Other Names

soybean lecithin
MF

C12H24NO7P
EINECS No.

232-307-2
Assay Acetone insoluble:

≥58%
Ether insoluble:

0.5%
Acid value:

≤30mgKOH/g
Moisture:

≤1.0
Color,Gardner,5%:

≤12
Certification

Halal Kosher
Description
Specification:
Product name

Soya lecithin Liquid

Quantity

196 drums

Batch number

20150928 HXY-2S

Testing date

2015-09-28

Testing result

Checking item

Standard

Testing result

Result

Acetone-insoluble(%)

≥57.0

58.04

Qualified

Hexane insoluble matter(%)

≤0.5

0.22

Moisture and volatile matter(%)

≤1.0

0.8

Acid value (mgKOH/ g)

≤30.0

25.2

Peroxide value (meq/kg)

≤5

4

Gardenr 5%

9-12

8

Viscosity (at 25℃ Brookfield)

150 poise maxinum

118

Characters

With Phospholipids inherent odor,liquid
Description :
1., This product is a new substitute of soya lecithin with rich lecithin (PC) cephalin (PE) inositol phospholipids (PI). As its strong water- soluble property, light color appearance and good liquidity, it is easy to be added particularly in the liquid ingredients. It will form a milky liquid after being mixed with water.
2., This product can strengthen the immunity of animals.
3., According to the product emulsification features, it can promote the animal enteric emulsion after using this soya lecithin, so as to have the high absorption.
Applicion to pig feed grade
1. Fat level and type : The higher the amount of dietary fat and the longer and more saturated its fatty acids are, the greater the opportunity for lecithin response. Nutritionists should give consideration to fat blends, to include lecithin, rather than single source fats for young pig diets. This will address fat utilization and fatty acid requirements.
2. Calorie/amino acid nutrition : Pig diets should be formulated to optimal dietary amino acid and caloric densities. As dietary fat source is modified (fat blends and/or lecithin addition), the impact of this change on dietary caloric level should be recognized in maintaining calorie/amino acid ratio.
3. Lecithin type and level : Lecithin with an HLB of 6-8 may afford more consistent emulsification. A lecithin level of 5-10 percent of the supplemental dietary fat should be considered.
4. Pig performance : As producers challenge their young pigs to grow faster and establish higher overall performance standards, supplemental lecithin makes increased economic sense.
5. Age : The younger the pig and the less developed its digestive system, the greater the opportunity for response to lecithin. Lecithin should be targeted in diets of pigs less than five weeks old.
Status: Tan or brown transparent liquid
Storage:
1) Be set to cool.dry and ventilated place .away from Fire source.
2) Sealed, avoid light, Prevent from rain and strong acis or alkali.
3) Lightly transported and protected from package damage.
Storage life/Shelflife:18 months
Liquid ( without pallet )
1. 200kgs net weight steel drums(small mouth & top open)
small mouth :1x20 fcl can load 98 drums( two layer standing and one layer sleep), with 19.6tons total.
top open: 1x20 fcl can load 80 drums ( two layer standing ), with 16 tons total
2. 20 liters Portable plastic drums, with 12 tons total
3.200kgs HDPE drums:1x20 fcl can load 80 drums ( two layer standing ), with 16 tons total
4.1MT IBC drums:1X20fcl can load 20 IBC drums, with 20tons total
5.Flexi bag packing with 22 tons total
Tianjin Hexiyuan Soya Lecithin Technology Co., Ltd, was founded in 2011 with three factory in china,head factory is located in Duliu Town,Jinghai County,another non gmo produce base located in helongjiang city,we also have one process factory in guangxi ,china
We are pleased to introduce ourself as leading producer of soya lecithin products in china with two factory ,more than eight processing line,
Gmo and non gmo in different pipe and tank ,our factory are approved by SGS,if you are interested in soya lecithin,please contact us for a better price and other.
— Our head factory have three workshops,with eight special heating room,four processing tank,one fitler tank, three film evaporators,two condensers, some raw material storage tank, and more than eight finished products tank etc.
— We have our own testing lab,when the raw material arrived to our factory, we will test it then processing. When the products finished , we will test it again ,when it is ok, we will delivery the goods to our clients.
Standard:
Samples:
Contact: