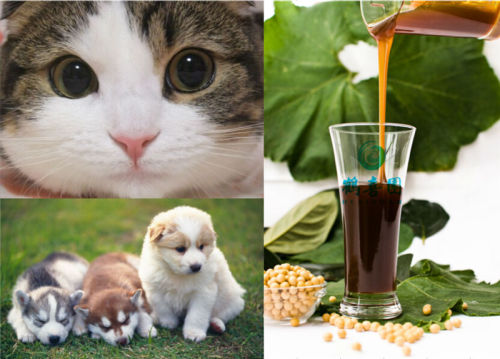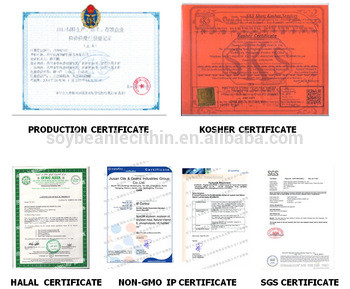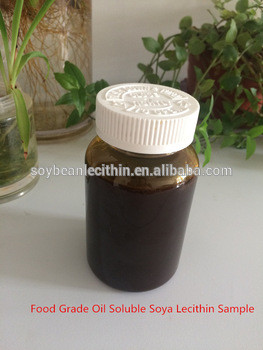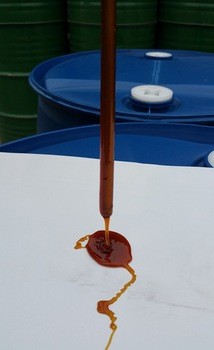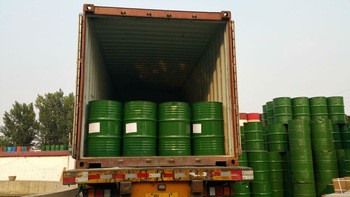 lecithin acetylcholine
Model

HXY-1S
Min. Order

1 ton
Item specifics
CAS No.

8002-43-5
Other Names

soybean lecithin
MF

C12H24NO7P
EINECS No.

232-307-2
Type

feed additive
Efficacy

Promote Healthy & Growth, Promote Nutrition
Acetone insoluble

≥60%
Ether insoluble

≤0.5%
Acid value mgKOH/g

≤30
Moisture, %

≤1.0
Description
Soya lecithin special for animal feed (oil-soluble)
Item No: HXY-1S
Specification
Item

Model

Acetone insoluble, %

Ether insolubel,%

Acid value, mg KOH /g

Moisture and volatile, %

Color, Gardner 5%

Status

HXY-1S

≥60

≤0.5

≤30

≤1.0

≤12

liquid
Description:
Feed grade oil-soluble soya lecithin thoroughly solve the problems such as the uneven texture, the poor liquidity and the unstable quality, etc. By using such lecithin, the physical and chemical index of product quality will be more stable, and the emulsification will be more better. The packing is iron drums. such packing avoids the product beaning contacted with air too much to keep the its acid value.Our factory can achieve mass production, one of the production line can produce 100 tons lecithin by one time.Every production line is enough stable for exporting.
Product Application:
Soya lecithin is a natural-sourced, consistent, superior feed ingredient that is an excellent source of dietary phospholipids.
Advantages of lecithin :
1. Improves survival rate of shrimp and fish larvae
2. Improves growth rate of fish and shrimp
3. Improves feed utilization efficiency Increases resistance to stress
4. Provides a consistent source of bio-available phospholipids
5. Good energy source
6. Mobilizes cholesterol
7. Nutritionally superior source of choline, iositol and unsaturated faty acids
8. Reduces the leaching of water-soluble nutrients
9. Acts as a natural antioxidant
10. Acts as a feed attractant
Cattle Feed Grade

Advantages :
1. More productive milch breeds demand high energy during lactation period. So it acts as energy supplies.
2. It increases the milk fat as well as milk production
3. It reduces the chance of infertility, loss of weight, ketosis, and lower milk production bia optimal energy supply.
4. Long chain fatty acids (Linoleic, Linolenic, Palmitic acids) are used for the milk fat synthesis. These fatty acids adsorbed on to particles in the rumen where they are hydrogenated by microbes and absorbed only from the intestine which increases fat percentage in the milk.
5. It improves the absorption of fat soluble vitamins and other nutrients.
6. Less moisture contents is advantageous for reduces the fungal growth in the feeds.
7. It increases the palatability of the feeds
Function : It acts as a energy supplies, energy concentrate, fat enrichment.
Pig Feed Grade
A number of factors may impact pigs' response to dietary lecithin. These include:
1. Fat level and type : The higher the amount of dietary fat and the longer and more saturated its fatty acids are, the greater the opportunity for lecithin response. Nutritionists should give consideration to fat blends, to include lecithin, rather than single source fats for young pig diets. This will address fat utilization and fatty acid requirements.
2. Calorie/amino acid nutrition : Pig diets should be formulated to optimal dietary amino acid and caloric densities. As dietary fat source is modified (fat blends and/or lecithin addition), the impact of this change on dietary caloric level should be recognized in maintaining calorie/amino acid ratio.
3. Lecithin type and level : Lecithin with an HLB of 6-8 may afford more consistent emulsification. A lecithin level of 5-10 percent of the supplemental dietary fat should be considered.
4. Pig performance : As producers challenge their young pigs to grow faster and establish higher overall performance standards, supplemental lecithin makes increased economic sense.
5. Age : The younger the pig and the less developed its digestive system, the greater the opportunity for response to lecithin. Lecithin should be targeted in diets of pigs less than five weeks old.
Poultry feed grade
1. It ensures excellent digestibility of fat and energy because it acts as a natural emulsifier
2. It improves the digestibility of the other nutrients in the feed and promotes the absorption of the fat-soluble vitamins
3. It has been specially developed for use in energy-rich feed mixtures for poultry.
4. It is Natural performance enhancement
5. Greater vitality
6. Support for the immune system
7. Efficient metabolism
8. Optimal supplies of choline and energy
9. Excellent binding of dust
10. It acts as energy supplies, energy concentrates, fat & protein enrichment
11. It helps as a physiological agent and aids in pelletizing
12. It increases the egg mass & production.
13. Decrease feed dust.
14. Improves feed efficiency.
Liquid ( without pallet )
1. 200kgs net weight steel drums(small mouth & top open)
small mouth :1x20 fcl can load 98 drums( two layer standing and one layer sleep), with 19.6tons total.
top open: 1x20 fcl can load 80 drums ( two layer standing ), with 16 tons total
2. 20 liters Portable plastic drums, with 12 tons total
3.200kgs HDPE drums:1x20 fcl can load 80 drums ( two layer standing ), with 16 tons total
4.1MT IBC drums:1X20fcl can load 20 IBC drums, with 20tons total
5.Flexi bag packing with 22 tons total
1. Output 5000mt per year , both in Chinese domestic and abroad market,Shareing 50% domestic share.
And 50% trading company buying from us to resale.Besides, we have very good relationship SOYA LECITHIN POWDER & GRANULE associate factory.
2.We can export from qingdao,tianjin,fangcheng port china.Head factory located in tianjin,another one loated in guangxi china.
3.,Our crude raw material from china govement oil plant,the price and quality is very good ,then we put our own tank for deeping processing accroding to different requirement.
Services we can provide:
1. We can provide mixed containers with different mixed items in one container.
2. We will control the quality, and offer free samples for test before shipment. After shipment, we will keep the samples for 3 years.
3. We can arrange shipment promptly with professional documents.
4. We can make the packages as you request, and send you photos before shipment.
Free samples can be sent on request
Standard
Contact:
1. What's your payment terms?
T/T or L/C.
2. When will i get reply?
We ensure you fast response, fast service .Emails will be replied in 12 hours,your questions will be answered in time
3. How about the packing?
Usually we provide the packing 200kg / steel drums or 20kgs / plastic drums. Of course, if you have special requirements on them, we will according to you.
4. How about the validity of the products?
According to the products you ordered.
5. What documents you provide?
Usually, we provide Commerical Invoice, Packing List, Bill of loading, COA , Health certificate and Origin certificate. If your markets have any special requirements, let us know.
6. What is loading port?
Usually Tianjin.